Series 540 - Heavy Duty End Suction Centrifugal Pump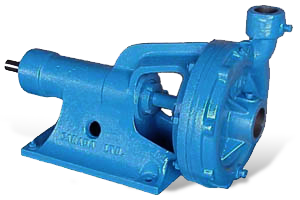 Features:
The Series 540 Heavy Duty End Suction Centrifugal Pumps are designed for industrial services.
Impeller is of non-clogging type with extra heavy vanes. Semi-open design permits passing of foreign material and the handling of clean or dirty liquids. Impeller is statically and hydraulically balanced.   
Shaft is of high tensile steel accurately machined to ensure proper fit of impeller and bearings.   Ample diameter prevents deflection at all operating speeds.
Casing is vertically split design. Discharge may be rotated every 45 degrees from regular top vertical position to facilitate piping. Casing has tapped openings for priming, vent, drain and gauge connections. 
Axial Shaft Adjustment permits impeller to be adjusted for end clearance, maintaining pumping efficiency at all times.  Shaft adjustment nut prevents any forward axial movement of impeller during pump operation.
Stuffing Box is a multi-ring packed gland, to keep leakage to an absolute minimum.  Mechanical seals in Buna-N, Viton, and PTFE are available as an optional feature.
Bearings are heavy duty, ball type, grease lubricated.  Bearing housing has integral support foot for accurate, permanent alignment of bearings and rigid support of shaft.
Thresholds:
| Max. Capacity | Temperature Range | Max. Working Pressure |
| --- | --- | --- |
| 1893 L/min (500 USGPM) | 250°F (121°C) | 1034 kPa (150 PSI) |
Specifications:
Size
Standard Port
Nominal Capacity at  1750 RPM
Nominal Capacity at  3500 RPM
Inches
Capacity
Head
Capacity
Head
Suction
Discharge
GPM
L/min
feet
kPa
GPM
L/min
feet
kPa
1-1
1.5
1
26
98
28
84
55
208
110
328
1-1A
1.5
1
33
125
50
149
60
227
220
657
1-1.5
2
1.5
62
235
32
96
125
473
120
358
1-1.5A
2
1.5
115
435
53
158
190
719
220
657
1-2
2.5
2
80
303
32
96
160
605
130
388
1-2.5
3
3
137
519
30
90
300
1136
118
352
2-1.5
2
1.5
118
447
75
224
160
605
265
791
2-2
2.5
2
160
605
80
239
230
870
275
821
2-3
3
3
275
1041
70
209
425
1609
275
821
2-4
4
4
500
1893
70
209